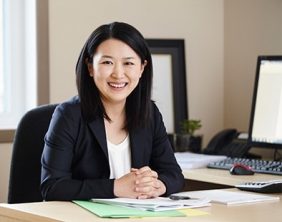 Vivian Yang, CPA, CGA
Vivian joined DeGraves Pallard & Associates LLP in 2007 as an accounting technician. Over the past nine years, Vivian has gained significant experience in the construction, retail, manufacturing and oil and gas industries providing practical solutions to owner-managed businesses. She is a proven professional in providing growing businesses with sound accounting and tax advice.
In 2016, Vivian was appointed an Associate Partner of DeGraves Pallard & Associates LLP. As part of her continuing professional education, Vivian will be enrolling in the In-Depth Tax Course provided through the Chartered Professional Accountants of Canada. The In-Depth Tax Course is a three-year program which allows the successful candidate to complete the most comprehensive, practical and relevant income tax training in Canada.
Vivian holds a bachelor's degree in Business Administration and is a member of the Chartered Professional Accountants of Alberta and Canada.
Vivian offers a range of business, personal and tax planning accounting services in Chinese and English.